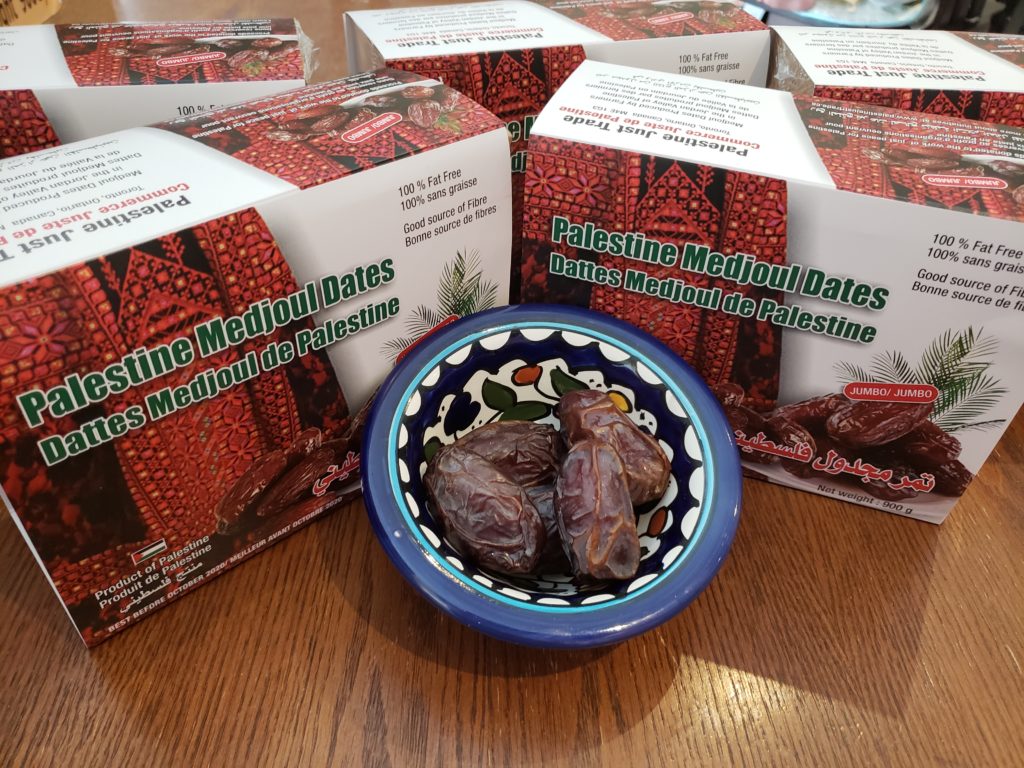 Just a week to Ramadan. Perfect time to make your order of solidarity medjoul dates from Palestine Just Trade. JUMBO, top quality, people are very pleased with quality, and lots of referrals & also re-orders.
We expect to have supply during Ramadan and into Eid, but to be sure to have your supply for Ramadan best to order in the upcoming couple of days.
$160 for 8 cartons each box 900 grams. Shipped anywhere in Canada
Ship in boxes of 8 cartons.
To order:
send email with name, address, and phone number (along with password for etransfer) to info@palestinejusttrade.ca
send etransfer to info@palestinejusttrade.ca
What to expect
The packages will be sent by expatiated post within a day or two of order. Tracking info will be provided, and you should get your package delivered in 2 to 10 days depending where in Canada you are. Most deliveries in 3-5 days.
These product are directly from Jericho area from Palestinian producers, packager and exporter, Al-Rwad Company Imported working with Palestinian company here in Canada.
All proceeds will go to Just Peace Advocates work for Palestine.
Comments include:
I had not really tasted a date until I tasted these.
Bring me back home to Palestine
Distinct, amazing, top quality product.
Thanks for bringing genuine Palestinian medjoul from sources that we can trust.
Being enjoyed in Comox Victoria, Vancouver, Coquitlam,Langley, Kelowna, Calgary, Edmonton, Winnipeg, Thunder Bay, Corunna, Waterloo, London, St. Catharines, Oakville, Hamilton, Toronto, Mississauga, Peterborough, Godfrey, Ottawa, Montreal, Point Clarire, Enfield, Saint Johns, St. John's and other places across the country. Thanks for your support of Palestine, and this initiative.
NOTE: t is important to be sure you know the source of your Medjoul is from Palestine. There is ONLY a couple sources coming into Canada. However, there is at least one vendor who portrays their product without country of origin, or from another country such as Jordan, but in fact is bringing from illegal isreali settlements. In many cases the price for these products are very similar to those of Just Peace Advocates, but you are buying goods from Israeli illegal settlements even though they may say Medjoul Dates including arabic label. In some cases products marked as Medjoul Dates from Israel may be cheaper, but these are clearly from illegal settlements, as Medjoul dates are only grown in Jordan Valley which is in occupied Palestine.